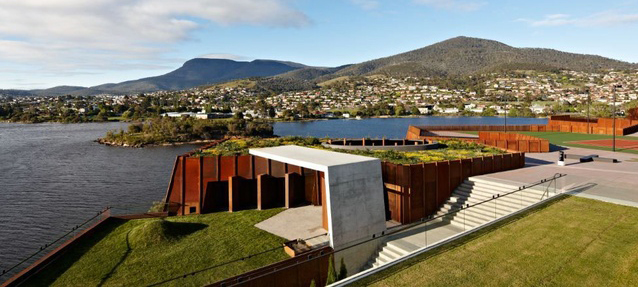 Case Study
Green roofs - Hydrocell®
.
Adding a roofgarden is a very environmentally friendly way to insulate your building. At the same time helping the world become a greener place.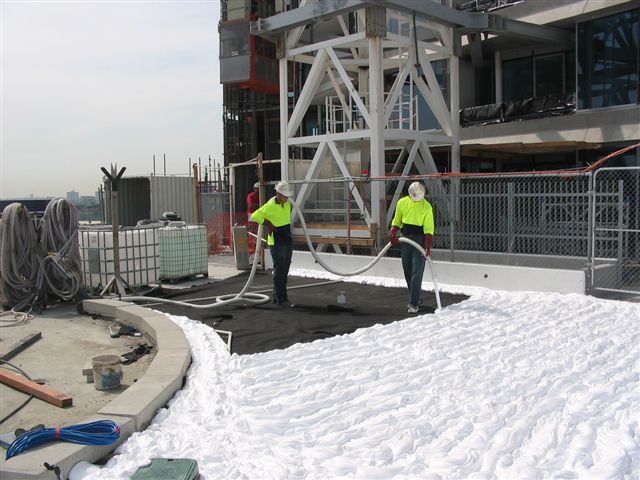 Hydrocell® - Green roofs & light weight roof gardens
Hydrocell flakes are a unique soil improver with remarkable water holding properties. It looks like polystyrene flakes, but mixed into your soil or potting mix, Hydrocell® holds up to 70% of its volume in water. Hydrocell® is suitable for all gardening applications including tree planting, garden beds, lawns, potted plants and roof gardens.
The Hydrocell green roof , roof garden system is ideal as subsoil for moss-sedum, herbs and grass vegetation mats. These mats are a good alternative for e.g. gravel roofs. The great advantage of moss-sedum mats is the immediate visibility of a colourful green carpet after laying.
Environmental aspects
Everything we install in our environment has to be checked in accordance with its biodegradability. Hydrocell®  foam is biodegradable because it degrades by means of hydrolysis within a period of 20 years to nitrogen which in turn functions as a need for plants. 
Root supply
The water absorbed will be supplied gradually and completely to the plants which grow with their roots in the hard foam. This in contrast with poly-acrylamides, expanded clay or lava which are buffering quite a lot of water, but supply only a small part of it to the roots.
Why should you get a green roof with Hydrocell®?
Hydrocell is:
Bio-degradable
A safe and suitable system for architects and developers
Self water regulating throughout the year
No further maintenance of the system after installation and therefore profitable
Hydrocell flakes applied in a layer of 10 cm, has a water absorption capacity of max. 70 litre/m2 (70 vol%)
Non-toxic
Inert
Fireproof
Empty space percentage amounts to 70% as a result of the open cell structure
Very durable and solvent-proof even under extreme climate conditions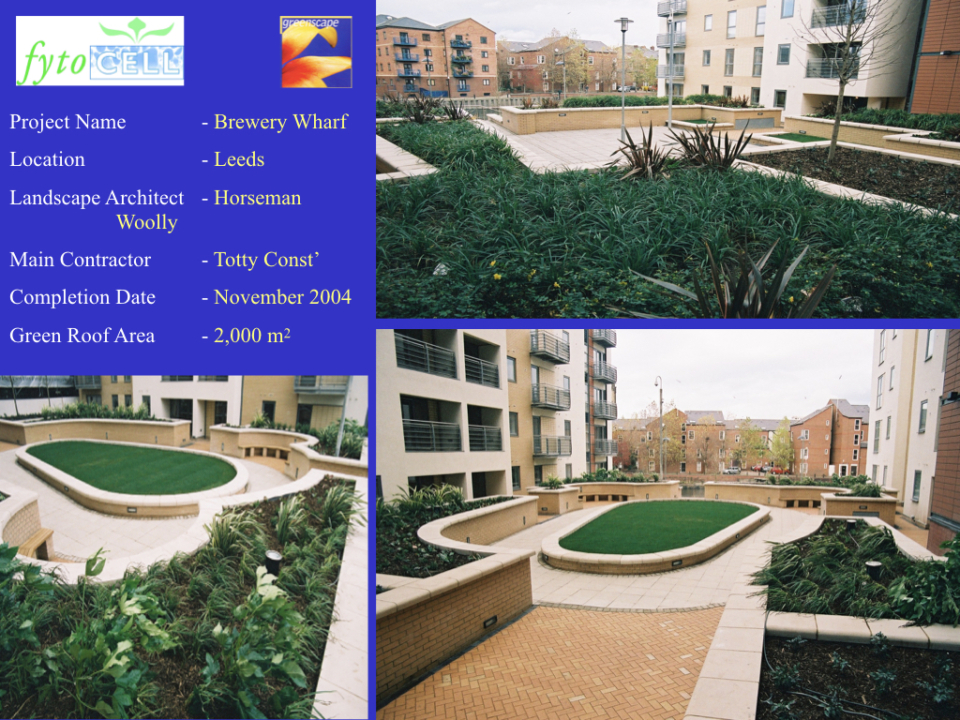 Brewery Wharf, Leeds
Located on the River Aire in central Leeds, this 326 apartment residential scheme by Robinson Design Group incorporates a 2,500 square metre Icopal green roof. The roof system to the front of the development is situated at ground level with the car park underneath. The garden forms a communal leisure space for residents.
Substrate system:
The roof garden itself comprises a high performance rootbar capsheet with an Fytonop® 20 drainage board, and a filter fleece. This is topped with a lightweight soil mix comprising 30 per cent sandy loam, 30 per cent peat free compost and 40 per cent Hydrocell ® flakes.
St John's School, Marlborough Intended to unify a split school onto a single retained site, Format Milton Architects' low impact design is intended to reduce energy consumption by 50 per cent from that of the two current sites. The school is conceived as an extension of the hill top. The grass roof follows the curvature of the site, giving the impression that the landscape has been gently raised to accommodate the school below. The design also makes use of recycled materials, high levels of insulation and photovoltaic roof glazing.
What are the
3 types of roofgardens
Intensive green roofs
The intensive profile is deeper, between 200-1200 mm. This allows for the full diversity of plants from turf to trees to be used. Intensive roof gardens are generally used as recreational spaces. Layer of applictaion with Hydrocell®.
Semi-extensive green roofs
Comprises of a deeper profile than the "extensive" profile, of between 100-200 mm. This allows a greater diversity of plants (turf, grasses and ground covers). Usage of Hydrocell Flakes and Fytomix
Extensive green roofs
Comprises of a shallow profile of between 50-100 mm. Planted with prostrate/low growing plants including mosses, sedums and water-stress tolerant grasses. This system is lightweight and requires minimal maintenance.
Examples of green roof projects with Hydrocell®